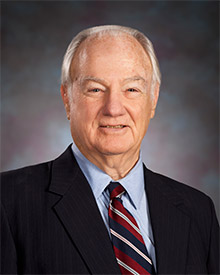 Tom
Armstrong
Founding Partner
918-587-3939
Download vCard
Tom Armstrong, a founding partner of GA, is widely recognized as a national expert in railroad defense litigation with nearly 50 years of experience serving some of the most noted clients in the industry. His mastery of serving as lead counsel in jury trials is undisputed.
He served as counsel for Union Pacific Railway for almost 40 years, pioneering the company's internal procedures for all protocols surrounding railroad accidents. He also garnered significant experience serving other railroad clients, such as BNSF, and is often sought out as an expert lecturer in all aspects of railroad law.
He is licensed to practice law in both Oklahoma and California, as well as the United States Supreme Court, the Tenth Circuit Court of Appeals, and the federal courts in Oklahoma. He served as an Adjunct Assistant Professor of Law at the University of Tulsa Law School in the area of trial practice.
One of Armstrong's most noted cases was Myers v. Missouri Pac. R.R. Co., 52 P.3d 1014 (Okla. 2002), which concerned the same legal question that was before the United State Supreme Court at the time. He advocated a position on preemption of state tort claims regarding the adequacy of railroad crossing warning devices that was ultimately adopted by the United States Supreme Court, and then correctly applied by the Oklahoma Supreme Court in the Myers case.
Professional Affiliations
Oklahoma Bar Association
Tenth Circuit U.S. Court of Appeals
U.S. District Court for Northern, Western and Eastern Districts of Oklahoma
U.S. District Court for the Northern District of Texas
U.S. Supreme Court
National Association of Railroad Trial Counsel
AV Rated
Contact Information
2021 S. Lewis, Suite 410
Tulsa, OK 74104
P: 918-587-3939
F: 918-582-5504