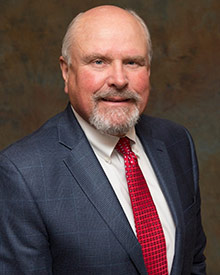 George
Gibbs
Founding Partner
918-698-5021
Download vCard
George Gibbs is a founding partner and President of GA, playing an integral role in growing the practice into one of the most accomplished civil defense firms in the region.
Gibbs built a team recognized as one of the state's foremost experts regarding the complex state and federal rules and insurance issues that govern nursing homes and long-term care facilities. Mr. Gibbs has decades of experience in defending LTC, DDS & OCP centers against claims of wrongful death, abuse, neglect or mistreatment. Moreover, he has been involved with LeadingAge Oklahoma, a non-profit organization that furthers innovative practices to transform how we care for our aging population, as well as pursues advocacy efforts to advance the interests of the aging consumer. He has served as their General Counsel for nearly a decade.
Gibbs also serves as board member and Counsel for the Baptist Village Communities, the largest non-profit nursing home and assisted living organization in Oklahoma.
He has conducted continuing education seminars on risk management and nursing home litigation for the past ten years and is a speaker at one or more nursing home conventions and seminars each year. Gibbs has extensive trial experience throughout Oklahoma and Arkansas and has litigated over 200 Oklahoma nursing home cases in the past 10 years.
In addition to his work with nursing homes, Gibbs has more than 20 years of experience in numerous areas of law, including medical malpractice, insurance defense, regulatory, transportation, aviation, personal injury, environmental, construction, toxic tort, contract, wrongful death, civil rights, administrative law and bad faith.
He is also experienced in the practices of insurance defense litigation, products liability litigation, tort and personal injury litigation, and professional malpractice litigation and regulatory litigation.
In addition to his litigation experience, Gibbs is very active in legislative affairs and has played a key role in legislative action surrounding tort reform, trucking company and nursing home liability.  He played a key role in the rehabilitation of an Oklahoma personal lines insurance company.
Professional Affiliations
Oklahoma Bar Association
Arkansas Bar Association
Tenth Circuit Court of Appeals
Eighth Circuit Court of Appeals
U.S. District courts for Northern, Eastern and Western Districts of Oklahoma
U.S. District Courts for the Eastern and Western Districts of Arkansas
Oklahoma Association of Defense Counsel, Board of Directors, Member
American Board of Trial Advocates
RUE Rating Best Attorney of America
Civic Affiliations & Memberships
LeadingAge Oklahoma, General Counsel
Contact Information
2021 S. Lewis, Suite 410
Tulsa, OK 74104
P: 918-587-3939
F: 918-582-5504
Cell: 918-698-5021